Eco4Cloud seals multi-year global contract with Telecom Italia
Eco4Cloud seals a multi-year global contract with Telecom Italia, Italy's #1 player in technological infrastructures and platforms, advanced telecommunications services, and ICT and Media solutions.
The deployment of Eco4Cloud's solution for energy saving, monitoring, capacity planning, orchestration optimization, risk monitoring/mitigation involves all of Telecom Italia's virtualized data centers and server farms, both in Italy as well as internationally.
«After thorough testing and validation, we selected Eco4Cloud's solution for the compelling and  innovative solution in reducing energy cost in our DC operations and the competitive advantage it provides to our Cloud and Energy Efficiency services» said Franco Regis, Vice President of Energy Purchase & Management at Telecom Italia.
«In December 2013 we signed a 3-yrs agreement with Eco4Cloud and decided to include their solution in Telecom Italia's commercial portfolio, for both domestic as well as international markets, so that it's now also available to our Customers» said Salvo Mizzi, Head of the Working Capital Project at Telecom Italia.
«The strategic Partnership with Telecom Italia is another proof point of Eco4Cloud's innovation, compelling value proposition and maturity» said Roberto Mircoli, Chief Executive Officer at Eco4Cloud.
This announcement adds to the significan momentum, recognition and acceleration Eco4Cloud is enjoying since it started its go-to-market in 2013 thanks to the seed funding by Digital Investments Sca Sicar and the venture funding by Principia SGR, leading VC player in Italy. Highlights:
several Proof-of-Concepts deployed internationally, documenting energy savings between 23% and 56% in a variety of different scenarios
high-caliber industry partnerships and affiliations, such as: Cisco's CDN and BizMall, Microsoft's BizSpark
leading-edge technology validation and characterization at HP's Innovation Center, delivering a stunning 49% energy reduction on HP's flagship Gen8 HP BladeSystem c7000 Enclosure
independent coverage by highly reputed 451 Research industry analyst, covering relevant market context, technology, business model, competition and SWOT analysis in their dedicated 451 MIS Impact Report 'Eco4Cloud: Consolidate virtual machines to accumulate datacenter savings'
scientific paper published by the IEEE Computer Society on their distinguished Transactions on Cloud Computing (TCC) discussing the mathematical principles of Eco4Cloud's algorithm: "Probabilistic Consolidation of Virtual Machines in Self-Organizing Cloud Data Centers"
whitepaper on "Saving energy in datacenters through workload consolidation" co‑authored with 4 top-notch European excellence centers such as the Institute for High Performance Computing and Networking of the Italian National Research Council, the Department of Electronics and Telecommunications at Politecnico di Torino, eERG – Energy Department at Politecnico di Milano and PrimeEnergyIT/EfficientDataCenters
over 700 active and highly-competent members affiliated to Eco4Cloud's community
several international innovation awards, such as the Bully Award Winner 2013, the UP-start Cloud Award, the Working Capital Award
guestbook of high-standing thought-leaders
2 investment rounds by Digital Investments Sca Sicar and Principia SGR VC funds
Eco4Cloud (www.eco4cloud.com) is a spin-off from University of Calabria and the Institute for High‑Performance Computing and Networking of Italy's National Research Council (CNR).
Based on extensive research on advanced algorithms, Eco4Cloud developed and engineered a novel and very effective solution to optimize the dynamic consolidation of virtual workloads, ultimately cutting 30‑60% the energy bill of highly‑virtualized/large‑scale data centers on top of tangible advantages in terms of data center monitoring, capacity planning, orchestration optimization, risk monitoring/mitigation and SLA control.
Eco4Cloud's technology integrates and operates in combination of any virtualization platform, is hardware agnostic, has no scalability constraints and inherits the reliability/availability/security/policy attributes of the underling virtualized infrastructures it optimizes.
The case study of their Eco4Cloud deploymentwas discussed by Telecom Italia's Luigi Bellani (IT Infrastructure Architecture & Engineering Director who heads Telecom Italia's Data Centers operations) at the Datacenter Dynamics international conference held in Milan on May 29th 2014: from initial tests to full‑scale/carrier-class global deployment across all of the company's data centers internationally, documenting the tangible benefits in terms of energy efficiency and DC operations optimization.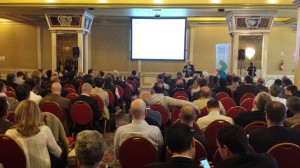 © Eco4Cloud | www.eco4cloud.com | info@eco4cloud.com