The Solution
Eco4Cloud Workload Consolidation is a Virtual Infrastructure Optimization Solution improving the economics of virtualized data centers with an intelligent software platform, which increases performances and decreases costs.
Eco4Cloud Workload Consolidation works on top of a virtualization platform, and uses the exposed API to connect to the platform and optimize the workload placement in a virtual farm in order to make it more efficient.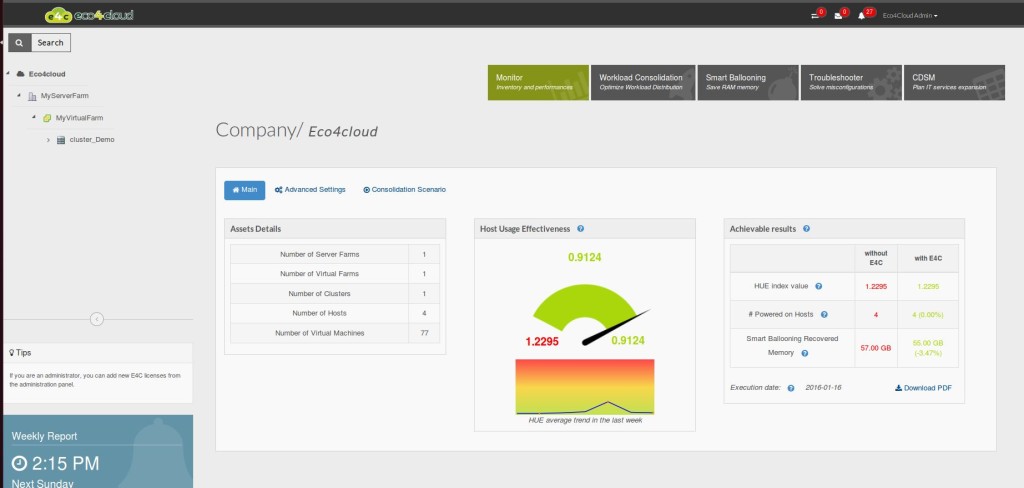 VMs density increase
Eco4Cloud Workload Consolidation increases VMs density on average by 40%, up to 150%, thanks to our patented technology.
Performance boost
Eco4Cloud Workload Consolidation is able to reduce CPU and RAM contention. Forget memory ballooning and see CPU Ready Time related warnings decrease up to 90%.
Easy to use
Quick deployment and setup. Easy to use, via web browser or as a VMware vClient plugin.
It is compliant with all the policies of a virtualized environment, and fully aware of any maintenance activity.
Benefits
REDUCTION OF DATA CENTER COSTS By increasing the VMs density on the physical servers, the need of additional hardware during refresh cycles drops.
CONSOLIDATION AND EFFICIENCY The solutions/techniques commonly available today are semi-manual, extremely complex, poorly adaptive and not scalable. E4C's innovative statistical algorithm and self-organizing/adaptive consolidation process help achieve utilization figures up to 90%
CAPACITY PLANNING Optimal occupancy of physical resources and adaptive optimization of inherently variable workloads
MEET DC SLAs – reliability, availability, performance Thanks to the insights and real-time monitoring analytics of critical system parameters provided by E4C, data center Managers can proactively/predictively prevent SLA violations, mitigate risks and increase overall data center reliability
SCALABILITY Thanks to its adaptive/self-organized distributed algorithm, E4C is very efficient for the very complex (α^n, n = number of VMs) consolidation problem, and converges to optimal state regardless of DC size in just a few hours. This is a great advantage as cost savings are proportional to the data center size