The Solution
Smart Ballooning is a software developed by Eco4Cloud for virtual machines memory management in VMware-virtualized environments. Smart Ballooning allows virtual machines to release unused memory and make it available for vSphere, which possibly will allocate it to other virtual machines in the data center.
Smart Ballooning is inspired by a mechanism already available in VMware systems, named ballooning, and which allows the VMs to release part of their consumed memory under stressful conditions.
Eco4Cloud's Smart Ballooning, on the other hand, allows the VMs to always release unused memory, thus reclaiming up to 15% of RAM memory, and making it available for further virtual machines.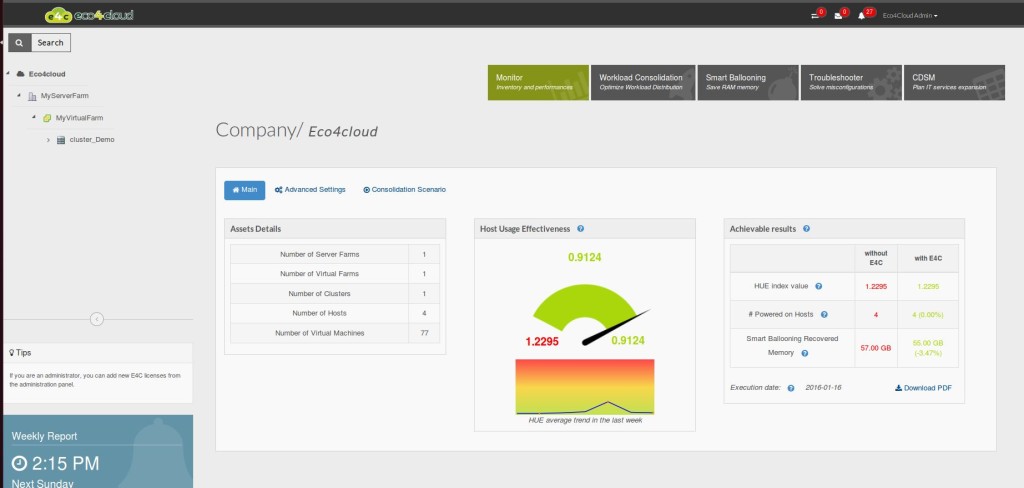 VMs density increase
Eco4Cloud Smart Ballooning increases VMs density on average by 15%, up to 20%, thanks to our patented technology.
Intelligent Memory Assignment
Eco4Cloud Smart Ballooning is able to reduce Operating Systems and Enterprise Applications RAM memory consumption. Stay in control of memory utilization with Smart Ballooning.
Easy to use
Quick deployment and setup. Easy to use, via web browser or as a VMware vClient plugin.
It is compliant with all the policies of a virtualized environment, and fully aware of any maintenance activity.
Benefits
REDUCTION OF DATA CENTER COSTS By increasing the VMs density on the physical servers, the need of additional hardware during refresh cycles drops.
CAPACITY PLANNING Optimal occupancy of physical resources and adaptive optimization of inherently variable workloads
SCALABILITY Thanks to its adaptive/self-organized distributed algorithm, E4C is very efficient, and converges to optimal state regardless of DC size in just a few hours. This is a great advantage as cost savings are proportional to the data center size