Eco4Cloud named the Sustainable IT Trailblazer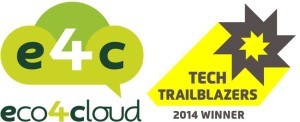 Rende, Italy and London, UK – January 26th, 2015 - Eco4Cloud (www.eco4cloud.com) –global leader in intelligent workload management solutions for virtualized data centers and the Cloud– today has been announced as a winning Sustainable IT Trailblazer in the 2014 Tech Trailblazers Awards. This comes as distinct recognition of Eco4Cloud's global innovation in the hot space of virtualized data center infrastructures optimization for the Cloud and modern enterprise IT services, such as the Host Thin Provisioning™.
«We're pleased and honoured to be awarded among the best of the best companies participating in this industry‑leading innovation contest from all around the globe, as the market addressed by Eco4Cloud is truly global,» said Roberto Mircoli, CEO of Eco4Cloud. «This is surely reinforcing Eco4Cloud's ongoing international expansion with top-tier Customers and Partners, and reconfirms the relevance of our award‑winning solutions and what we have achieved so far.»
Rose Ross, Chief Trailblazer said, «On behalf of the team and esteemed international judging panel, I congratulate all the winners of the Tech Trailblazers Awards. We were greatly impressed by the ingenuity and innovation shown in the entries . Winners of this year's Tech Trailblazers Awards are some of the most exciting enterprise tech startups making an impact in the business world today. I'm sure we will be hearing more about the successes from these inspiring startups in the future. We wish them the very best of tech trailblazing luck in 2015.»
About the Tech Trailblazers Awards
Tech Trailblazers (www.techtrailblazers.com) is a new concept in awards, designed explicitly for smaller businesses and startups that are less than five years old and at C-series funding or below. The awards have low barriers to entry and prizes that not only recognize startup innovation, but also proactively help startups grow their businesses with exclusive coaching, mentoring and development from VCs and leading CTOs as well as an estimated prize fund worth in excess of $1m. The awards seek to recognize true innovators in the following enterprise technology and other areas:
Big Data Trailblazers
Cloud Trailblazers
Emerging Markets Trailblazers
FinTech Trailblazers
IoT Trailblazers
Mobile Technology Trailblazers
Networking Trailblazers
Security Trailblazers
Storage Trailblazers
Sustainable IT Trailblazers
Virtualization Trailblazers
For more information, please email innovate@techtrailblazers.com, follow @techtrailblaze on Twitter or via the hashtag  #TTAwards, or visit http://www.linkedin.com/company/tech-trailblazers-awards.
Media contact: press@eco4cloud.com | Ph. +39-0984-494276